Reviews:
Review of "The Talented Mr. Pelt"
By Ron Wynn
From JazzTimes

There hasn't been any orchestrated campaign boosting the profile of trumpeter Jeremy Pelt, but in little more than a decade after his arrival in New York he's generated considerable excitement. His group's latest recording comprehensively demonstrates why he's so well regarded.

Pelt is a technical marvel. He executes intricate solos with ease, plays gorgeous ballads in a tasteful manner, and never lacks flair or sensitivity. At the same time, The Talented Mr. Pelt is a group statement rather than an individual showcase. Pelt deliberately doesn't dominate the spotlight, and the band achieves a blend of spontaneity and precision that makes these songs a pleasure to hear.

The thematic menu features an interesting blend of romantic songs and tunes with either mythological or religious connotations. But Pelt and his bandmate-tenor saxophonist J.D. Allen, pianist Danny Grissett, bassist Dwayne Burno and drummer Gerald Cleaver-aren't doing gospel on "David & Goliath" or "Paradise Lost." The former closes the disc in the same demonstrative manner that "Pandora's Box" begins it. Pelt and Allen are comfortable alternating roles, playing in unison or responding to the rhythm section. The great Rudy Van Gelder's savvy sonic touches are evident throughout the excellent production.

Yes, it might be Pelt's upper-register licks, speed and lengthy authoritative phrases on uptempo pieces that reinforce his eminence among current trumpeters. But it's the group dynamic and the trumpeter's stunning solos on such pieces as "All My Thoughts Are of You" and "In Love Again" that truly highlight his brilliance.


Review of "The Talented Mr. Pelt"
By Jeff Krow

It was virtually the same time last year that we reviewedJeremy Pelt's last High Note CD, Men of Honor. I remarked then that it was unique in this time period when jazz artists get together for one-off productions and then go their separate ways; that Jeremy Pelt has kept together his working band for some three years now. There is not a weak link in Jeremy's band. Plus, they just keep on getting tighter in their interplay. They swing hard, and they swagger in their arrangements. Pelt is at the peak of his powers with the power and range of Lee Morgan and Freddie Hubbard in their seminal years. The rest of the band is whip smart and eager to strut their talents.


"Pelt is at the peak of his powers with the power and range of Lee Morgan and Freddie Hubbard in their seminal years."
"Pandora's Box" burns from the onset. Gerald Cleaver's cymbal work drives Pelt, and Grissett provides fills. J.D. Allen steps up and blows strong mid-range choruses till Grissett has his time center stage. We're off to a good start. "All My Thoughts of You" shows the lyrical side of the group as both Pelt and Allen blow sweetly with soft drum swirls by Cleaver. Rudy Van Gelder is on board with engineering, mixing, and mastering duties and the sound mix is, as expected, spot on. The woodiness of Burno's bass is captured and the miking of piano and drums is upfront and crystal clear without needing a expensive sound system to appreciate.
"Paradise Lost" written by Anthony Wonsey, is taken in waltz time and the ensemble playing strength of a well-oiled machine shows. Again Cleaver is the general keeping the troops focused, and Allen shows he can match Pelt in intensity. "When the Time is Right" follows and although the energy flow diminishes a bit, these pros do not simply go through the paces, they just glide along smoothly.
"...intense interplay that is reminiscent of Miles, Wayne Shorter, and Herbie Hancock, Ron Carter, and Tony Williams in the mid-60s."
"In Love Again" is most known for its vocal version by Blossom Dearie. Here Jeremy's flugelhorn reinvigorates the tune with some introspective blowing from deep in his soul. I dug the bass solo by Dwayne Burno on "Only". Burno also wrote the insightful liner notes for the CD as he explores in great detail the inspiration and techniques the band follows for each track. Dwayne's playing on this track provides the pulse that is heard in the center. Danny Grissett's contribution to "Only" is also very prominent as he adds a sheen that makes this track special.
Pelt's "David and Goliath" takes the CD out with intense interplay that is reminiscent of Miles, Wayne Shorter, and Herbie Hancock, Ron Carter, and Tony Williams in the mid-60s. Fast company certainly, but should the talented Mr. Pelt and his band continue on their voyage together, then they are heading in a complementary direction.
Review of "The Talented Mr. Pelt"
By Urbanflux

Jeremy Pelt's "The Talented Mr. Pelt" is just the kind of album one thinks of when it comes to how jazz is supposed to be: cool, confident, swinging and just a little mysterious.

Pelt's group is that rarest of all things in jazz, a working band, and the familiarity and communication that come from extensive time spent playing together is evident.

All the players are among the foremost 30-something neo-bop players in jazz today giving the group an all-star-type reputation with a well-rehearsed sound that comes only with familiarity and countless gigs


Review of "The Talented Mr. Pelt"
By Matt Collar

Jeremy Pelt's 2011 effort, The Talented Mr. Pelt, features the same working ensemble the trumpeter has used since 2007, which includes tenor saxophonist J.D. Allen, pianist Danny Grissett, bassist Dwayne Burno, and drummer Gerald Cleaver. In many ways, the album is a similarly inclined mix of adventurous, on-the-edge, post-bop and modal jazz that featured on Pelt's stellar 2010 album, Men of Honor. A forward-thinking improviser with an ear for late-'60s Miles Davis and '70s Woody Shaw, Pelt pushes the brass envelope as much as possible and can engage a listener quite well on record.
"...Pelt and his ensemble working as a cohesive unit of like-minded individuals who truly seem to dig playing with each other."
In that sense, you never get a canned or predictable moment on The Talented Mr. Pelt. Tracks like the funky, off-kilter waltz "Paradise Lost" and the forceful, rough-around-the-edges "Pulse" are terrific modern jazz numbers that bring to mind both the dreamy compositions of saxophonist Wayne Shorter and the early, firebrand work of trumpeter Wynton Marsalis. Similarly, the gorgeous later-album ballad "Only" and the driving, eyes-toward-the-horizon closer "David and Goliath," while coming at group interplay from different emotional directions, find Pelt and his ensemble working as a cohesive unit of like-minded individuals who truly seem to dig playing with each other. Of all of Pelt's prodigious talents showcased on The Talented Mr. Pelt, clearly the ability to pick musically sympathetic and daring sidemen makes the album a joy to hear.
Review of "The Talented Mr. Pelt"
By Aaron Cohen

The title and cinematic cover art for trumpeter Jeremy Pelt's album areÑmost likelyÑa good-natured joke, which makes the subtle and inspired interplay between himself and his stellar working band a great quiet surprise to begin the new year. Five of the eight compositions are Pelt's own, and his "All My Thoughts Are Of You" features impressive minor-key interplay among himself, saxophonist JD Allen and pianist Danny Grissett. The disc also has some intriguing interpretations, including a version of Anthony Wonsey's "Paradise Lost," which Gerald Cleaver infuses with surprising funk beats in unexpected places. Pelt also plays a lovely flugelhorn on this rendition of "(I'm In) Love, Again." Special bonus: bassist Dwayne Burno's perceptive liner notes.-


Review of "Men of Honor"
By Ralph Miriello

Trumpeter Jeremy Pelt possesses a round, lyrical sound that places him in the top tier of current players in the post bop tradition. On Men of Honor Pelt's working band of J.D. Allen on sax, Danny Grissett on piano,Dwayne Burno on bass and Gerald Cleaver on drums have each contributed compositions that make up this tribute - an homage to both the jazz tradition and the working jazz band.

Starting with bassist Dwayne Burno's "Backroad", the music features the front line of Pelt and Allen, hauntingly in the tradition of vintage Jazz Messengers. Allen's deliberate tenor phrasing is refreshingly uncluttered. Following in stark contrast is Pelt's animated, biting trumpet solo which is sprinkled with familiar phrasings and fluid arpeggios that sound convincingly inspired by early Freddie Hubbard. For his part pianist, Grissett moves up and down the keyboard with a gentle, fluid grace while Burno and Cleaver keep the pace on target throughout.

"Milo Hayward" is a jagged Pelt original dedicated to his son. The start-stop pace of the tune allows a Shorteresque sounding Allen and a purposely jagged Pelt to play in an unfettered stream of consciousness.Grissett alters the pace of the song with a pretty melodic solo before Cleaver punctuates the piece with a choppy flurry on drums at the coda.


"Pelt has finally arrived as a maturing musician whose is a respectful guardian of the jazz tradition and a blossoming composer in his own right."
J.D. Allen'scomposition,"Brooklyn Bound", finds Pelt at his most lyrical. Here Allen takes on a Dexter Gordon-like tone and phrasing which is quite compelling. Pelt squeezes out slurs of passion from the warm notes of his flugelhorn in a sensitive solo that echoes memories of the late Art Farmer.
Drummer Cleaver's compositional contribution is "From A Life of the Same Name", a beautifully pensive piece where both Pelt and Allen play with purposeful sensitivity and thoughtful restraint. The melody has surprising turns that demand the listener's attention and the entire group contribute to the song's poignant quality. "Illusion" is an uplifting, easy swinging Pelt composition, where he chooses the distinctive sound of the Harmon mute for his trumpet. After a brief melodic piano solo by Grissett, Allen plays a deeply evocative saxophone solo using an economy of notes to make his point. Pelt's brightly muted trumpet has a joyful, uplifting sound on this song that brings a smile to your face with its inspired lyricism.
"Us/Them" features a nice front line duet with counterpoint soloing by drummer Cleaver. There is a call and response segment first between Pelt and Cleaver and then between Allen and the drummer. Blakey would be proud.
The last tune on the album is a slow medium tempo composition by the pianist Danny Grissett titled "Without You". Cleaver starts with a cymbal building entrance followed by a front line lead. Short lyrical solos by Pelt on flugelhorn again remind me of Hubbard at his most sensitive, Allen on tenor and a tingling piano solo by the composer Grissett finish this tight little gem.
After consistently being acknowledged as an "up and coming" artist, Pelt has finally arrived as a maturing musician whose is a respectful guardian of the jazz tradition and a blossoming composer in his own right. With "Men of Honor" Pelt and his group prove how effective a regular working jazz band can be.
Musicians: Jeremy Pelt (trumpet & flugelhorn); J.D. Allen (tenor saxophone); Danny Grissett (piano); Dwayne Burno (bass); Gerald Cleaver (drums).
Review of "Men of Honor"
By Jeff Krow
****½

Jeremy Pelt has had a very strong resume since graduating from the Berklee School of Music. He was briefly signed to Fresh Sound New Talent in 2002, and then followed up with a Criss Cross issue, before spending five years with MaxxJazz, where he recorded four CDs between 2003 and 2008. His current quintet, formed in 2008, has followed him to High Note after recording November for MaxxJazz.

Pelt has also formed a strong following with his sideman work, as a first choice New York based trumpeter. He was featured with Louis Hayes' Cannonball Adderley tribute band, where he shared the front line with Vincent Herring, reprising Nat Adderley's role.
"Pelt definitely has a band whose future is limitless. "
His popularity has reached such heights among both jazz fans and critics, that he has been voted Rising Star on the trumpet for five years in a row by both Downbeat Magazine and the Jazz Journalist Association.
After brief forays exploring electric jazz and fusion, Pelt has settled back into the acoustic, post-bop milieu. The addition of J.D. Allen to his group was a savvy move as the two play well off of each other. Men of Honor opens with Backroad, and Allen has an opening solo spurred on by Cleaver's cymbal work and Grissett's comping. Pelt steps up and his bracing solo brings to mind Freddie Hubbard ' s power from the the 1960s. The Blue Note vibe we hear is attributable to the inimitable Rudy Van Gelder, who engineered, mixed, and mastered this Aug. 11, 2009 session.
Each of the band members contribute one composition, and Jeremy wrote the other four tracks. This is a tight band and their ease in both following and spurring on Pelt is felt on Milo Hayward, named for Pelt's young son. Brooklyn Bound is a contemplative post bop number where all the members shine. Danny Grissett ' s strong presence is both felt here as well as on Danny Mack (possibly written by Pelt for Grissett?). Allen and Pelt blend as solidly here as did Miles and Wayne Shorter in the late 60s.
Drummer Gerald Cleaver wrote From a Life of the Same Name, where once again the band ' s ensemble playing is telepathic, especially the sympatico that Pelt and Allen share. Pelt ' s Illusion follows and his harmon mute shares honors with Dwayne Burno ' s bass accompaniment, as Grissett plays sparkling chords.
Cleaver drives Us/Them as J.D. Allen contributes several strong choruses with Grissett showing his prowess before Cleaver returns to take charge again. Without You, the closer to Men Of Honor, shows Pelt ' s lyrical side with a ballad written by Grissett.
The liner notes to this CD mention that Pelt is proud to keep this band together at a time when many band leaders' rosters change after a single CD or long tour. Pelt definitely has a band whose future is limitless. As long as Pelt features his bandmates' writing, we can hope that these men of honor continue their journey together for a good while.
Review of "Men of Honor"
By Joel Roberts

The title of firebrand trumpeter Jeremy Pelt's latest CD refers to the members of his quintet, who, like their leader here, are among the foremost 30-something neobop players in jazz today. The album is a followup to Pelt's acclaimed 2008 effort November, which marked the all-acoustic quintet's debut and came on the heels of a couple of releases that explored a sort of early-'70s electric Miles vibe.

Heralded for years as one of the "rising stars" in jazz, Pelt has earned accolades for his staggering virtuosity, which has elicited comparisons to trumpet icons like Clifford Brown, Lee Morgan, and Freddie Hubbard,
"(Pelt's) most mature, satisfying release to date and a great way to start the year in jazz. "
as well as for his studious, cerebral approach to the music. While he's clearly the man in charge here, Men of Honor is very much a band-focused release, with all five members of the group contributing compositions (Pelt penned four of the tunes) and all five voices heard distinctively and insistently throughout.
Pelt's group is that rarest of all things in jazz, a 'working band' and the familiarity and instant communication that come from extensive time spent playing together is evident. JD Allen is a perfect frontline partner for Pelt, his rich tenor sax sound offering a mellow counterpoint to Pelt's crisp, vivid trumpet tone. And the rhythm section of pianist Danny Grissett, bassist Dwayne Burno and powerhouse drummer Gerald Cleaver is as dynamic as any working in jazz at the moment.
Among the standpoint tracks are Burno's strutting opener "Backroad", Pelt's energetic ode to his new son "Milo Hayward" and Grissett's romantic closer "Without You". Most of the tunes here fall nominally under the rubric of postbop, but some, like Pelt's "Danny Mack", edge further outside, with Grissett pounding out dissonant chords while Pelt and Allen solo furiously.
At 33, Pelt is just starting to come into his own. Men of Honor is his most mature, satisfying release to date and a great way to start the year in jazz.
Review of "Men of Honor"
*****
By Tony Hall

Without any reservations, this is the best new release I've ever been asked to review since joining Jazzwise and unquestionably deserves five stars - or more! It was heartening to see that several of my colleagues thought that the Pelt Quintet's gig at Jazz at the Lund last summer was 2009's best. Because this is, at last, what we used to call a BAND rather than five guys just getting together to record. This band has a group feel not heard since the likes of the second Miles Davis Quintet (which is definitely one of its inspirations) or the best of the Art Blakey Messengers.
"This band has a group feel not heard since the likes of the second Miles Davis Quintet (which is definitely one of its inspirations) or the best of the Art Blakey Messengers."
Here you have five of the most talented players on the planet, who are all also composers of the highest order, getting together to create a group with an identity and individual sound, utilizing originals from every member, but still sharing that common conception and superbly recorded by the legendary Rudy Van Gelder. Pelt is now widely recognized as the most important trumpeter to carry on the Freddie Hubbard tradition. JD Allen has never sounded so effective as on this date, playing with great emotion, making every note count (less is more) with a sound at times recalling early Trane. The brilliant Grissett gets better and better with every recording, Burno is the rock and Cleaver, the most avant-garde of the five, stirring the proceedings, constantly changing the rhythmic landscape and inspiring the soloists. Burno's tune "Back Road", the opener, is upbeat and relatively conventional with inspired solos, Grissett's particularly striking. JD's moody minor-key Shorteresque "Brooklyn Bound" is outstanding with deeply-moving solos by himself and Jeremy, with Grissett's floating chords creating more moods, with bass and drums moving beneath. Pelt's first two tunes are in contrast: The playful "Milo Hayward" (dedicated to his very young son), followed by the dark-sounding "Danny Mack" (for Grisset, whose percussive dissonant comping, along with Cleaver's constantly churning drums, intensify the mood created by the horn solos). Cleaver's "From a Life of the Same Name" is arguably the deepest of the lot, with beautifully poignant statements by Pelt and then JD. The CD is completed by three more equally moving tracks - Pelt's gently swinging, down-tempo "Illusion" and "Us/ Them", which features Cleaver's clever, undulating rhythmic approach and, finally, Grissett's contribution, the haunting "Without You", which he included on his own Criss Cross album ("Form", this writer's Year's Best of 2009), which leaves the listener emotionally drained and hanging in space. A really great recording by a really great band. Let's pray they stay together.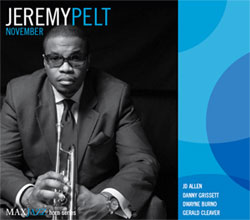 Review of "November"
From Downbeat * * * *
By John Murph

After several years of embellishing his music with electric keyboards, guitar and sound effects, Jeremy Pelt returns with a scintillating new disc that proves that acoustic instrumentation can be as electrifying. The fireworks ignite from Pelt's trumpet improvisations, which at times crackle with the intensity of classic Freddie Hubbard. Pelt shares the frontline with tenor saxophonist J.D. Allen, who also wields a flinty sensation when it comes to
"Pelt's deft compositions make November a rewarding disc that invites repeated listens."
delivering poignant improvisations. Powerhouse drummer Gerald Cleaver and bassist Dwayne Burno ignite a combustive drive, and Danny Grissett offers his percussive piano accompaniment.
Pyrotechnics alone don't necessarily make absorbing music. Pelt's deft compositions make November a rewarding disc that invites repeated listens. They're steeped in modern post-bop, but also evoke a cinematic narrative akin to Wayne Shorter or Bobby Hutcherson. Pelt's no mere throwback musician, though. His mixture of turbulent rhythms and careening melodicism on "Avatar" or the smoldering fire he musters on "Rosalie"- check out his superb pithy duet with Grissett- are firmly rooted in the now.
The cohesive energy of Pelt's new outfit also contributes to this date's lasting impression. In Allen, he's found the ideal match for vivacious improvisations, best illustrated on "Phoenix", a blistering modern bop romp on which Allen and Pelt incessantly exchange sparkling asides. Cleaver and Burno give the rhythm section an urgency throughout most of the date, then recoil admirably on the more reflective compositions such as "Clairvoyant" without sacrificing rhythmic intensity or ingenuity.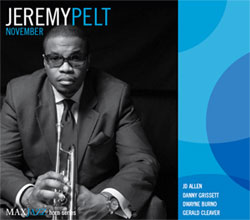 Review of "November"
From New York Times

The negotiation between history and progress has preoccupied many a bright young jazz musician, and the trumpeter Jeremy Pelt is no exception. Over the last five years or so Mr. Pelt has poked around in every corner of the postwar jazz tradition, including early-stage fusion. (Last year he released a live recording of Wired, his electric band. He is scheduled to appear with that group at the Blue Note on July 28.)
"Mr. Pelt plays brilliantly, with warmth and depth. He makes each of his nine compositions feel like a personal discovery."
Mr. Pelt's strong new quintet album, "November" (MaxJazz), occasionally reveals a surface debt to the music of Wayne Shorter, around 1965: the searching harmonies and streamlined pulse are there, as is Mr. Shorter's instrumental timbre, thanks to the tenor saxophonist J. D. Allen. But this album evades its own retro impulse. Its expert rhythm section — Danny Grissett on piano, Dwayne Burno on bass and Gerald Cleaver on drums — swings with an unforced clarity. And Mr. Pelt plays brilliantly, with warmth and depth. He makes each of his nine compositions feel like a personal discovery.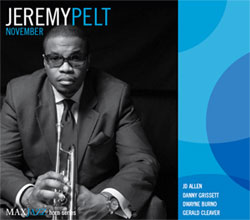 Review of "November"
From All About Jazz
By C. Michael Bailey

In the same way that Roy Hargrove's Earfood (Emarcy, 2008) updated Lee Morgan's Cornbread (Blue Note, 1965), so Jeremy Pelt's November updates Miles Davis' Miles Smiles (Columbia/Legacy, 1966). If creativity and art can be evaluated on both the vertical and horizontal, Morgan's and Davis' offerings represent horizontal progressions of the art of jazz into new areas, where Hargrove's and Pelt's are vertical elaborations of those previous collections.

Jeremy Pelt (with his band WiRED) last offered Shock Value: Live at Smoke (MaxJazz, 2007), an exploration of the style Miles generated with Live at the Fillmore East (March 7, 1970): It's About That Time (Legacy, 2001). Pelt returns to a fully acoustic format on November, but this music is no more wooden than Miles' groundbreaking second quintet recordings were.
"Pelt's compositions are all tightly angular and anxious, both probing and airy."
November
is a fully realized post-bop suite, a jazz
Also Sprach Zarathustra
. "Mata" is five-plus minutes of introduction, a free form recital with no resolution. Here and throughout the disc we can hear the spirit of the late Anthony Tillman Williams, who's drumming for Miles Davis, continues to touch all aspects of jazz percussion almost 50 years later.
Pelt's compositions are all tightly angular and anxious, both probing and airy. His trumpet is tart and sweet, the tone very much his own. The choice of JD Allen on tenor saxophone was a deeply thoughtful one as Allen is one of the finest post bop tenor's performing. As a collection,
November
is a compelling listening experience from beginning to end. Do you miss
Nefertiti
(Columbia/Legacy, 1967), Not any more.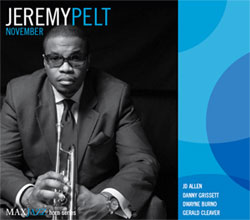 Review of "November"

Having had the pleasure of reviewing Jeremy Pelt's live album, Shock Value, and finding it quite attractive, I came to this album with an open and receptive mind toward this most talented and acclaimed trumpeter and, I'm sure, the pride of Maxjazz Records. This is a bit of a different vibe from Shock Value, which he performed with WIRED and is, for the most part, quite an explosive journey. November is a more laid-back, silkier, acoustic and traditional display of Pelt's adeptness with jazz at its purest. The five-time winner of Downbeat Magazine's Annual Critics Poll for Rising Star, as well as the Jazz Journalist Association's choice for "Up and Coming Musician of the Year" in 2005, Pelt is obviously no stranger to the jazz world. Luminaries like Wayne Shorter, Bobby "Blue" Bland, Jimmy Heath, Jimmy Cobb and Bobby Short can surely attest to that.
"...the timing, the bass lines, all come together to comprise a wonderful collage of sound to be heralded by jazz purists the world over."
This latest effort finds Pelt again at home with the intricacies and character of straight-ahead jazz and all its excellence. The runs, the timing, the bass lines, all come together to comprise a wonderful collage of sound to be heralded by jazz purists the world over. Translation: The man knows what he's doing and does it quite well. That, of course, has to come from a very important place, that place of understanding and identification with the crystalline aspects of this fine art form.
The opening track, "Mata," is almost deceptive with its slow, rather lazy feel, resembling a mystery film soundtrack or high-level tune-up session. That's just before he injects his enveloping charisma in the quality passages that follow on the subsequent tracks. There are so many places in this album that again mark this trumpeter as the one to watch. Dazzling scale work like that displayed on "Phoenix" will only solidify his standing among great trumpeters everywhere. This is Pelt as an experience. Experience him for yourself.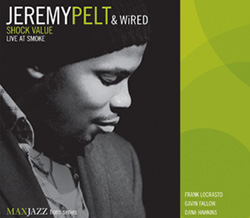 Review of "WiRED- Shock Value: Live at Smoke"
From JazzTimes
By Bill Milkowski

For young trumpeters, the lure of electric Miles is as powerful as the pull of Clifford Brown's bebop. The list of trumpeters who have at one time or another plugged in and turned on to a Live-Evil vibe with wah-wah pedal fully engaged is long and illustrious. Add Jeremy Pelt to that list. On his aptly titled Shock Value, a live recording from Smoke on New York's Upper West Side, the trumpeter throws a curveball to those who may have heretofore considered him to be strictly in a purist vein (easy to do, given his history with such straightahead bandleaders as Vincent Herring, Ralph Peterson, Louis Hayes, Frank Foster, James Moody and Gerald Wilson).

Pelt dives deep into the electric pool here. The provocative opener,"Circular," is underscored by Frank LoCrastro's stabbing Fender Rhodes and highlighted by guitarist Al Street's spiky fuzoid six-string work. "Suspicion" is directly out of the Herbie Hancock Thrust playbook. Pelt's bold, open horn playing here is somewhere up in the Freddie Hubbard zone, while Dana Hawkins' whirlwind drumming jacks up the proceedings a notch.

"Cause" is an affecting pop ballad reminiscent of Blind Faith's "Can't Find My Way Home" and features the soaring soprano of vocalist Becca Stevens along with some highly expressive trumpet work from Pelt. They jump back into a Thrust vibe on "Pythagorus," Pelt's answer to Hancock's "Actual Proof," with bassist Galvin Fallow playing Paul Jackson to drummer Hawkins' Mike Clark. Pelt's muted trumpet solo here is bristling with ideas. He also displays uncommon lyricism on the beautiful ballad "Beyond" before breaking out the wah-wah once again on the raucous closer "Scorpio," based on the opening riff to Miles Davis' "It's About That Time" (from In a Silent Way). It's underscored with funky clavinet and bubbling Mu-tron-inflected bass lines, and throbbing with rock energy, which will no doubt shock purists.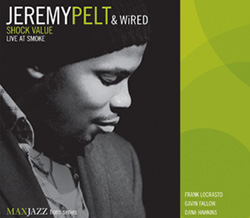 Review of "WiRED- Shock Value: Live at Smoke"
By George W. Harris

The bottom line with this latest release by emerging trumpet star Jeremy Pelt is: if you were attracted to him by his acoustic 03 release "Close To My Heart" that featured him him as the torch carrier in the Brown-Morgan-Shaw mold of traditional jazz, you're going to be disappointed. If you were intrigued by his electric work reminiscent of early 70s Miles, as on his 05 release "Identity", you're on safe ground. The fact is that Pelt has a gorgeous tone, and is trying to find the best environment in which to display his wares. On this "live" disc, he is surrounded by electronic rock-minded souls like keyboardist Frank LoCrasto, Gavin Fallow (bass), Dana Hawkins (drums) and Al Street (guitar), delivering an evening's worth of mostly self penned tunes that range from his own funky "Suspicion" to Derek Nievergelt's delicate ballad "Beyond". The emphasis is on energy here, as Pelt solos through his electronically tempered horn on the intense "Circular", with Street's manically depressive Hendrix-like guitar work. "PythagorUs" has Pelt's muted trumpet weaving through some very tricky roadwork. Becca Stevens' Fairport Conventionish voice is well featured on the moody "Cause". There are some intriguing ideas on this disc, Pelt is definitely on the search for his own musical milieu.
Review of "WiRED- Shock Value: Live at Smoke"
By Ben Ratliff
NY Times

The sound of the album "Shock Value: Live at Smoke" (MaxJazz), by the jazz trumpeter Jeremy Pelt and his band Wired, comes from early electric Miles Davis, late '60s and early '70s, when his bands were more concerned with melodic development and before they were building a kind of dense, percussive graffiti. The setup here is tolling electric piano, shredding electric guitar, bass, drums and Mr. Pelt's trumpet run through a wah-wah pedal. One track even features the folkish singer Becca Stevens. For sure, a bit of it sounds like an exercise in style. But there's art here too. The constant volume and droning resonance of the band drive the players to focus and intensify their work, to make it matter; everyone's playing, especially Mr. Pelt's, is wise and serious.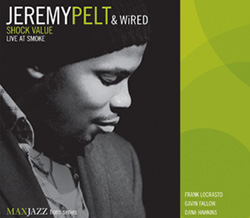 Review of "WiRED- Shock Value: Live at Smoke"
By: C. Michael Bailey

Imagine a sacred Shinto sand garden beautifully divided up into all of the genres of jazz, rock, and blues. Interconnections between the genres and subgenres are carefully documented, after having been fully researched and verified. Now visualize trumpeter Jeremy Pelt dragging his horn through this garden, marginally alongside a similar set of tracks left by Miles Davis thirty-five years ago. This provides a visual image of Jeremy Pelt and his band WiRED at their March 21-22, 2007 appearance at New York City's Smoke.

Pelt is one of the few trumpeters exploring Miles' post-In A Silent Way (Columbia, 1969) period, as opposed to the majority of leaders who have been content to mine the master's second great quartet period. In fact, Pelt and his band sound very much like Miles' transitional combo heard on Live at the Fillmore East (March 7, 1970): It's About That Time (Legacy, 2001), that featured Chick Corea, Dave Holland and Jack DeJohnette, except Pelt is way better behaved and more enjoyable to listen to.

The disc is comprised of Pelt originals, with one exception, all very different, all very compelling listening. The highlights are a lengthy blues where Pelt has no fear of playing his horn through a compression-wah pedal. Pelt's solos, along with guitarist Al Street, make this blues less about jazz and more about blues. It is a nice throw-back touch in a more forward-looking program of music.

Pelt follows the blues with the hypnotic "Suspicion," where the band solos over a very simple harmonic figure repeated over and over, recalling Miles lengthy electric funk excursions. Pelt shares composing duties with vocalist Becca Stevens, who provides lyrics to Pelt's "Cause." The musical effect is narcotic and the sound, performance and approach fresh. The ballad "Beyond," by Derek Nievergelt, shows Pelt more than capable of the straight-ahead. In all, a superb disc by a young artist.
Review of "WiRED- Shock Value: Live at Smoke"
By: Chris Spector JEREMY PELT/Shock Value: Pelt continues to turn out new recordings that really show the meaning of shock and awe. A perennial young trumpeter to watch, here he lays out what it means to be a triple threat by playing, composing and leading like a true ace. With a live set of original music, this rocked up jazz is highly contemporary and ground breaking taking things into new realms with ease and firm command. He might still be a young cat, but he's soaked up what ever lessons the past has to offer and filters it through his own vision. A super charged set that will captivate young ears looking for new jazz to call their own.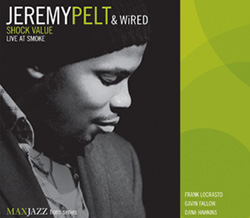 Review of "WiRED- Shock Value: Live at Smoke"
By: Jim Santella

Born to play the Blues and raised on Jazz' most recent personality changes, Jeremy Pelt brings fire and passion to his audience while tempering each stroke with the improvisational tools that have grown out of tradition. The trumpeter's wah-wah comments, his low moan caresses and his dizzying romps through bebop heaven gather up a hundred years of Jazz into one big picnic basket filled with seasonal delights. This appearance at Smoke features six of the leader's original compositions and on by bassist Derek Nievergelt. The band is WiRED, literally and figuratively; Pelt uses occasional electronic effects with his trumpet in order to broaden his instrument's range of emotions and the rest of the band takes advantage of the kind of 20th Century electronic technology that has been with us for several generations in order to get 'plugged-in' and dangerous. Like familiar voices from the family around us, these instrumental textures make everyone in the house feel right at home.

Pelt, who will turn 31 in November, was born and raised in Los Angeles, went to school in Boston and settled in New York. His BA in Music from Berklee college of music prepared him well and left him with a network of collaborations, which seems absolutely essential in this day and age of competitive business relationships. It's not his background that stands out when he takes the stage, however. It's simply what comes from deep inside him.

The trumpeter is at his best with a riveting ballad, such as 'Cause', or a sensual blues, such as 'Blues', where he leads his band in a storm of emotions. Several selections utilize organ combo textures with a hefty groove, while others recall the electric periods of Miles Davis. Pelt's trumpet creates a delightful session that shouldn't be missed.
Review of "Identity"
U-Entertainment
By: Glenn Whipp
3 1/2 stars

Pelt is among the most interesting young trumpeters in jazz. This new album of 10 originals, recorded with a core quartet augmented by the occasional guest, cements his standing. Pelt has demonstrated versatility in the past, but it's really on display here, his lyrical trumpet soaring between acoustic and electric settings, attacking, soothing, engaging, entrancing. The Freddie Hubbard comparisons are apt, but Pelt is very much his own man, an inventive, distinct voice possessing a startling maturity beyond his years.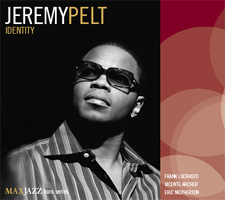 Review of "Identity"
Sounds of Timeless Jazz

As a member of the Gerald Wilson Orchestra, Jeremy Pelt has made his trumpeting skills very well known to his fans because of his dynamic interplay with fellow trumpeters Jon Faddis, Eddie Henderson, Frank Greene and Jimmy Owens. As a leader of his own quartet (which makes its debut on this CD), Pelt provides listeners with an extended study of his musical growth and stylistic IDENTITY. This is Pelt's second release for MaxJazz's Horn Series. The recording features Frank Locrasto, Vicente Archer, Eric McPherson, Myron Walden, Mike Moreno and Warren Wolf on ten new compositions written by Jeremy Pelt. The CD opens with "Re-Invention," a song, which by definition sets Pelt's musical experiences to a different style of playing. His sense of timing and harmonic awareness is clearly sharpened and every member of the quartet is "playing in the groove." "Eddie's Story," is a tribute to the great trumpeter Eddie Henderson. This ballad continues to liberate the creativity within Pelt as he pulls inspiration from his respect for Henderson. Pelt's worth as a trumpeter and composer is proven here as he overcomes the special technical demands of improvising, lip/tongue slurs, pedal tones. He plays with fluidity and confidence. Where CLOSE TO MY HEART, featured Pelt's acumen in a callisthenic setting, IDENTITY features his freedom and soloing that shows his ability to swing, bop and play with increasing harmonic awareness and ingenuity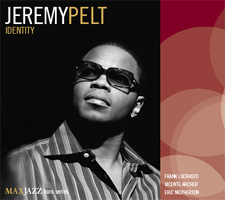 Review of "Identity"
Groov Marketing
by: Tad Hendrickson

BASED ON THE title of his fourth album, Identity, trumpeter/flugelhorn player Jeremy Pelt tries to put some distance between himself and his fellow trumpeters, past and present. Happily, he's successful. Here on 10 songs he wrote and arranged for his working quartet (keyboardist Frank Locrasto, bassist Vicente Archer and drummer Eric McPherson) and a few guests, Pelt is notable for what he doesn't do as much as what he does. Resisting the youthful need for flash, Pelt isn't dazzling in the technical sense of raging through changes in triple time or adding superfluous cadenzas. Nor are his songs willfully obscure or oblique—the band always stays synced up to a groove or swings.

The trumpeter does get out there a little bit on "Scorpio," running his horn through some effects, but he doesn't overshadow the gist of the song. The band's touch with a ballad is nicely illustrated on "Eye Of the Beholder" even as it adds a few dreamy touches around the edges. Other highlights include the jaunty and swingin' "Celestial" and "Angular" with its high-octane interplay between Pelt and vibesman Warren Wolf.

Already hailed as the brightest new light since the arrival of Roy Hargrove and Nicholas Payton, Identity fulfills that prophesy.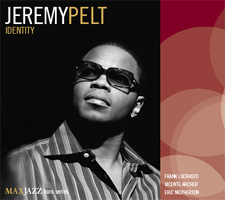 Review of "Identity"
AllAboutJazz.com
By John Dworkin

Most of the best composers, like Ellington and Shorter, have also been great players. The two processes are mutually reinforcing. Jeremy Pelt's Identity shows him to be on this two-fold path. It's all original material performed with Frank LoCrasto on keyboards, Vicente Archer on bass, and Eric McPherson on drums—all on a par of excellence with Pelt in their playing. This particular group formed just recently, yet it already has sharp rapport. If it stays together, it'll likely become one of the better groups out there.

Pelt pulls off the difficult trick of being simultaneously cerebral and inviting. His tone strikes a warm balance between brightness and suffusion. The more aggressive tunes comprise the stronger material on Identity, and Pelt doesn't bury the lead, opening with his strongest track, "Re-Invention." The tune is bothcontrapuntal and harmonic, yet without traditional comping from LoCrasto. The introspective, darkly enigmatic melody is made of simple gestures taking on cumulative meanings throughout the sixteen-bar form. The writing recalls '60s-period Wayne Shorter. Yet, as with Shorter, the music follows its own internal logic. It also strikes a balance between a "free" feeling and closed form, which may be the highest level of craft for the modern improviser. LoCrasto's counterpoint acts like an oblique, reluctant shadow with a mind of its own. Both Pelt and LoCrasto use ideas from the melody, and each other, to inform their solos with mindfully small gestures and build larger concepts.

"Seek," "Suspicion," and "Angular" are the other relatively aggressive tunes. While they don't push boundaries, they share a spirit with many current artists exploring rhythmic complexity and form while maintaining swing and drive. The musicians incorporate occasional odd structures and rhythmic displacements into the blowing sections instead of discarding them as compositional quirks.

Despite the appearance of some special guests on Identity, the quartet is central. Archer's turn on "Celestial" is a highlight, as is McPherson's blowing over the vamp at the end of "Suspicion." As for the relaxed, slower material on Identity, it's often beautiful but occasionally so introspective as to implode under its own weight. An exception is the engaging "Haiku," where Pelt and LoCrasto both make deeply personal statements while recalling two of the greatest ballad interpreters on their instruments.

The media affair regarding Pelt is well underway. Identity may lead some critics to celebrate the arrival of the "future of jazz," or cause others to feel compelled to refute such claims. But the reality is not so black and white. Those who are preoccupied with finding an artist to label the "future of jazz" can't see the trees for the forest. Innovation is sometimes incremental and often not easy to detect. It's all a continuum. We need faith that the pursuit of excellence supplies the energy to keep jazz moving forward. Innovation need not always be a "change of the century." It often hides in the shadows, tucked into a brilliant corner like a precocious child smiling to himself with a secret. There may well be such a child tucked into Identity.
Review of "Identity"
Midwest Record Recap
By Chris Spector

Pelt is inventing himself and defining himself as he goes along but one thing is for sure, he's a trumpet player for today and tomorrow. Tackling the hard road by going all original and doing it against what fans might think is type, Pelt doesn't pelt with his use of notes, he delivers hits to all fields that you might not be able to predict but do want to hang around for. A young lion that's easily at the top of a short list.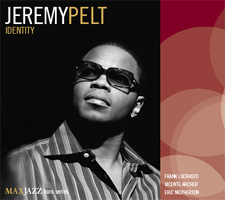 Review of "Identity"
AllAboutJazz.com
By Jim Santella

A prolific composer, Jeremy Pelt wrote all the pieces for Identity, his third album as a leader.

His bright trumpet tone and mellow flugelhorn ambience give the session a highly lyrical quality. The quartet drives with a straightahead jazz sensibility that emphasizes spirit over technique. That's not to imply Pelt's anything but a superb trumpeter. At 28 going on 29, he's already polished his skills to perfection. He cohesively melds his instrumental voice with those of the other members of his ensemble, and still demonstrates a powerful grasp of the trumpet's range. His horns soar up high, flow gently with a seamless quality, attack fiercely, or nestle in comfortably to suit the music's purpose.

Pelt casts impressions; thus, his music allows him to draw upon a wide range of moods.

On trumpet, his sound forges bright and full. Echoes fill the air as Pelt places strong emotional emphasis on his attacks. He can also let the music flow intuitively, as he does on "Eye of the Beholder," a dedication to the memory of pianist James Williams. Throaty of tone and resonating with passion, he lets this tribute song cast its shadow far and wide. Frank LoCrasto's electric piano provides a moody spell as the piece unfolds with a mesmerizing quality that recalls the later periods of Miles Davis' career.

Jauntier numbers such as "Angular" and "Suspicion" come filled with energy and guttural emotion. The latter piece, serving as the album's high point, pushes the trumpeter's leading edge of creativity higher and higher. Recalling the best years of Freddie Hubbard's career, this fiercely animated piece rocks hard. Guitarist Mike Moreno adds a thrilling guitar solo to "Suspicion" that bolsters the trumpeter's aim. Together, he and his ensemble create a recommended session that leaves a lasting impression.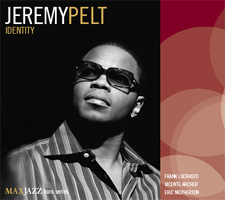 Review of "Identity"
By John Poses

Pelt's latest MAXJAZZ release is titled "Identity" (MAXJAZZ). The disc - issued within the past two weeks - places the gifted trumpeter and flugelhorn player predominantly in a quartet setting with his working band: keyboardist Frank Lorasto, bassist Vecente Artcher and Eric McPherson on drums. The core group is augmented throughout the 10-cut session by soprano saxophonist and bass clarinetist Myron Walden, guitarist Mike Moreno and Warren Wolf on vibes.

The disc flows easily; Pelt adds a variety of effects, both employing his horn and done separately, that often give this a neo-Miles Davis sensibility. This is augmented by the fact that there is little doubt that Wolf has studied Bobby Hutcherson's approach to the vibraphone - and that's not such a bad thing.

Along the way, Pelt - who composed and arranged each of the pieces, where the playing is split between acoustic and electric presentation, dedicates one piece to trumpeter Eddie Henderson in the self-titled "Eddie's Story" and another piece - a rather ethereal one - to the late James Williams, who employed Pelt in a tribute to the trumpeter Fats Navarro.

There are multiple textures and an even-keeled-ness to "Identity." After a number of listenings, I can certainly see what the fuss is about: Pelt is striving to be an original - not an easy thing to do with all the wonderful trumpeters out there in this the Wynton Marsalis era. If the complexity of rhythm and song heard on "Identity" is any indication, Pelt is well on his way.


Review of "Identity"
NY Times
By Ben Ratliff

"Identity," with an acoustic quartet and the occasional electric piano or processed trumpet sound, is his best record yet, the most confident and direct, with themes both spiky and wakeful ("Angular") and simple, liquid and spacey ("Eye of the Beholder").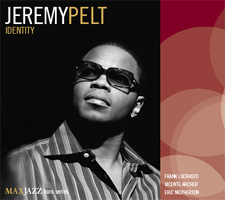 Review of "Identity"
JazzWise
By Tony Hall

When you've been an A&R man or a producer, it's only natural that you're constantly on the lookout for new talent. You want to see how their potential develops, to see whether they'll become just another really good player or someone really special, who'll contribute to the development of our music. (Or, on the other hand, after being flavour of the month, completely disappear without trace!)

Someone this writer has always felt could turn out to be really important is Jeremy Pelt. His sideman dates with the likes of Ralph Peterson and Wayne Escoffery, his initial CDs as leader for FSNT, Criss Cross and MaxJazz, his writing, which has been a highspot throughout and, above all, his live appearances (I've seen him half a dozen times now over the past two years) all show a solid, slow-building maturity. And this very recently completed album, his second for MaxJazz, is by far his most important to date. He's trying to establish his own musical identity, both in his compositions and his general direction and, for my money, he's succeeded.

This is a wonderful album. Jeremy's sound is something special here. At times, it's almost ECM-like (but with added warmth) in its purity. There are five cuts with his basic touring quartet, with newcomer LoCastro playing an important role on a variety of keyboards; three with his guitarist of choice (often heard on FSNT), Mike Moreno; and one ("Scorpio") adding Walden (on soprano and bass clarinet, not alto), where the music goes more into Milesian electric period freefall, complete with rock guitar and loads of effects. (This is Jeremy's other band, Creation).

Maybe Pelt's roots as a writer originally came out of the Miles/ Shorter era. But his ten compositions here are completely contemporary – in fact, possibly more tomorrow than today. Maybe he does subconsciously pay occasional homage to Hubbard or Booker in his harmonic conception. But, overall, I hear a musician well on his way to establishing something totally individual. My Record of the Year so far.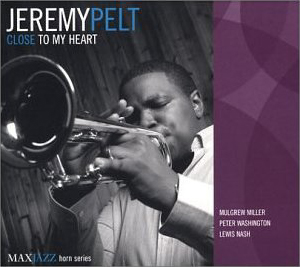 Review of "Close to My Heart"
This Young Trumpeter Can Tell a Story
The Wall Street Journal
By NAT HENTOFF
March 25, 2004

In my youth, jazz musicians who admired the listening acumen of a colleague would say, "he has big ears." That describes jazz critic Stanley Crouch, a former drummer, who in 2001 wrote of 27-year-old Jeremy Pelt that he was "perhaps the next great young trumpeter."

Mr. Crouch was right. Mr. Pelt, who has been an active part of the New York jazz scene -- from small combos to the Mingus Big Band, and as a leader, too, since graduating from Boston's Berklee College of Music -- was designated a Rising Star by last year's Down Beat Annual Critics Poll, a Best Emerging Jazz Star by the Jazz Journalists Association, and won the Ascap Young Composers Award. "Close to My Heart."

Hearing Mr. Pelt, I was immediately reminded of the deeply, searchingly lyrical trumpet player and composer Booker Little, whom I recorded in 1961 for Candid Records ("Out Front"). He died that year at age 23, but the few recordings he made have influenced many jazz players since, very much including Mr. Pelt. "Close to My Heart."

"My own feelings about the direction in which jazz should go," Booker Little told me back then, "are that there should be much less stress on technical exhibitionism and much more on emotional content, on what might be termed humanity in music." Of all the emerging jazz trumpet players I've heard since then, Mr. Pelt most fully exemplifies the pursuit of that goal. "Close to My Heart."

Another of Mr. Pelt's influences was the late Chet Baker. "Chet got into my sound," he told jazz writer Doug Ramsey in his notes for Mr. Pelt's CD, "Profile." "I was more conscious of tone, rather than of just having the biggest sound." "Close to My Heart."

A key test of a jazz musician is his or her ability to play and personalize ballads -- and without feeling the need to eventually double the tempo to swing more overtly. The master of jazz balladry, tenor saxophonist Ben Webster, could -- like Mr. Pelt -- swing powerfully on up-tempos, but said: "I like the pretty things. I think they say more." Mr. Pelt's newest CD, "Close to My Heart" (www.maxjazz.com ; on Amazon and in stores), also reveals his discerning search for songs not in the usual playbook of today's younger jazz players. By contrast with Mr. Pelt's previous CDs -- "Profile" (www.bluemoon.es) and "Insight" (www.crisscrossjazz.com)—which were full of his own compositions, there are no Pelt originals on "Close to My Heart."

But on Duke Ellington's seldom heard "Don't You Know I Care" and the Dorothy Wayne and Ramono Rasch's "It's a Beautiful Evening," Mr. Pelt's trumpet has the intimacy of an overheard private conversation. And on "All My Life" by Sidney Mitchell and Sam Steept, he becomes startlingly, darkly moving.

Mr. Pelt, in conversation, says he is much concerned, in his playing, with telling a story. And he is much taken, in his reading, with the "dark side" of plays and novels. "I'm not naturally a dark person myself," he adds, "but I look for that kind of drama, and that's why I go to Shakespeare's tragedies."

Listening to Mr. Pelt's graceful approach to the Cy Coleman and Joseph McCarthy "Why Try to Change Me Now?" I remembered the legendary tenor saxophonist Lester Young telling me that he would not play a ballad unless he first learned the lyrics so that, while putting himself in the song, he would not distort the composer's intentions. And then Young said that he most often learned the lyrics from interpretations by Frank Sinatra.

I told that to Mr. Pelt, who said: "It's very encouraging to hear that about Lester Young, because I've learned through the years that to play a ballad as effectively as you might sing it, you have to know the lyrics. And it was from Sinatra's recording of 'Why Try to Change Me Now?' that I learned those lyrics, before I played it in 'Close to My Heart.' The way he delivered them, it was almost heartbreaking."

Mr. Pelt arranged the songs on "Close to My Heart," except for those ballads that have added a section comprising two violins, a viola, a cello and a guitar. The guitarist, David O'Rourke, wrote the scores for the strings, which tenderly complement Mr. Pelt's trumpet and flugelhorn. As does the flowingly attentive rhythm section of pianist Mulgrew Miller, bassist Peter Washington, and drummer Lewis Nash.

On Mr. Pelt's "Insight" CD (Criss Cross Jazz), I was particularly taken with his original composition "In My Grandfather's Words." As Ted Panken of Down Beat writes in the notes, Mr. Pelt's maternal grandfather, Hayward Smith, had died at the age of 94 in 2000. "He had to deal with a level of racism and obstacles that were almost insurmountable," said Mr. Pelt. "So I wanted to compose something that caught the essence of his struggles. He's the inspiration for this song and a lot of things that I do in life."

Mr. Pelt told me that when he was a child, "I'd spend every summer with my grandfather in the Bronx, and he'd tell me stories about the way he had to come up through the turmoil of the times. When he was a teenager, he'd been run out of Virginia. A mail carrier insulted his mother; my grandfather threw a rock at him; and everybody was out looking for him." So he had to go North. "My grandfather was majestic, and I tried to get his sound in that song."

As for the current "Close to My Heart," Mr. Pelt told John Murph in Jazz Times magazine: "This was a reflection of all of the music I grew up listening to when my mother was playing Dinah Washington and Billie Holiday records, and [it has to do with] the songs I grew to really enjoy while working with people like Bobby Short." He calls this CD "the end of a chapter. Any other projects I do will be all original music."

From time to time, I read that jazz has become "moribund," or that its future is epitomized in the partially electronic bloodless music of the Swedish trio EST, which The Economist declares "is putting new heart into an old idiom." But that's an artificial heart. It is the beat of Jeremy Pelt's heart that, as Booker Little predicted, underscores the future of jazz.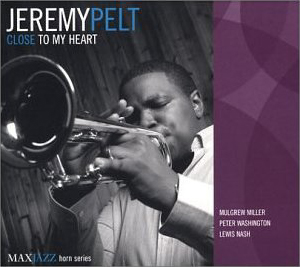 Review of "Close to My Heart"
Jazzwise
October 2003
By: Tony Hall

As regular readers may be aware, this reviewer regards Jeremy Pelt as arguably the most important new trumpet talent to emerge since Roy Hargrove and Nicholas Payton came along at the start of the '90s. He's recently become quite a regular at Ronnie Scott's, particularly with the Ralph Peterson and Louis Hayes groups and impresses in person more with every visit.

On record, he's usually heard with other serious-minded youngsters (Jimmy Greene, the Strickland Twins, Robert Glasper etc) and his ballad tracks have always been outstanding. Here, at a very early stage in his career, he gets the chance to play lots of ballads and Ð like exceptionally talented trumpet predecessors such as Clifford Brown, Roy Hargrove and our own Guy Barker Ð to record with strings. Admittedly only a quartet's worth, but the original and highly attractive way in which David O'Rourke has scored their parts makes the section sound much bigger. On one track, "This is the Moment", Pelt's only backing is by O'Rourke on acoustic guitar, which provides a nice change of pace. And Ellington's "Don't You Know I Care" is a rather sombre, totally unaccompanied trumpet feature. Pelt's broad appreciation of a wide range of jazz agendas is not only prevalent in his playing, but especially so in his choice of material. There are seldom heard pieces by Mingus, Pepper Adams and Jimmy Rowles, plus a collection of '40s pop songs, which have seldom appeared on any jazz releases. Mulgrew Miller and his seasoned veterans give mature support, with an especially inventive piano solo on Eric Reed's "Pioggia Di Perugia". But Jeremy Pelt makes his most serious statement on CD yet, sounding warm-toned, harmonically wise and statesmanlike, way beyond his years. A marvellous musician with a big heart and still so young.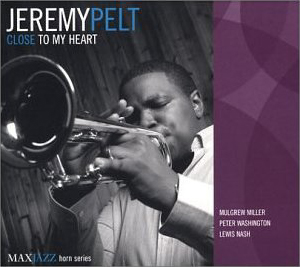 Review of "Close to My Heart"
Jazzreview.com & j-notes.com
October 2003
By: James Knox

Tradition is defined as the handing down of information, beliefs, and customs by word of mouth or by example from one generation to another without written instruction. Jazz is an ever evolving journey with new roads being explored every day. Jeremy Pelt is a gatekeeper of the straight-ahead jazz tradition while adding his own nuances which will merely broaden and widen the road. At 27, he plays like an old soul who draws his musical being from the ancestors. He grew up in Southern California listening to Billie Holiday and Dinah Washington and his musical influences include Miles Davis ,Freddie Hubbard ,Donald Byrd ,Wayne Shorter , and Terence Blanchard .

On his MAXJAZZ Horn Series debut album, Close To My Heart, Jeremy celebrates the emotional ballads. Each of the eleven selections is filled with the lush and rich sounds of his horns. He is quite capable on trumpet and flugelhorn. His notes are well crafted and their rounded tones are perfect. Several of his selections are accompanied by violins, cello, and viola which frame his wondrous horn so beautifully. On the opening Mingus ballad, " Weird Nightmare ", the strings rush in like a gentle breeze as he flows in with his mellow trumpet. He swings brightly on " Excerent " (Pepper Adams) and " Take Me In Your Arms " (Suisse & Norman) which features some great drum work from Lewis Nash . Jeremy plays solo flugelhorn on the Ellington & David ballad " Don't You Know I Care ." The piece is solemn, reflective and has a certain longing as it tugs at the heart. Pianist Eric Reed contributed the mid-tempo ballad " Piogga Di Perugia " which features Mulgrew Miller on a very nice opening piano solo and Jeremy brings in a certain brightness that gives the tune a reminiscent feel of the Coltrane classic " Giant Steps ." His sensuous horn continues on the Jimmy Rowles ballad " 502 Blues (Drinkin' & Drivin') which features Peter Washington on bass solo. His horn rings like a bell as he opens " All My Life " (Mitchell & Stept) which is punctuated with lush strings. The cornerstone of this album is the Wayne & Rasch ballad " It's A Beautiful Evening ." After a string intro, Jeremy comes in mellifluously on the flugelhorn with Mulgrew framing his every note. You can imagine yourself on an evening stroll on the beach with the sun just about to set as you hear Mulgrew tip-toe on the piano and the strings wash upon the shore. It is magnificent. " This Is The Moment " (Hollaender & Robin) features Jeremy on trumpet and David O'Rourke on solo guitar. David also arranged and conducted all the string selections for the album. The album closes out with the beautiful ballads " Why Try To Change Me Now? " (Coleman & McCarthy) and " In Your Eyes " (Loesser). Jeremy also serves as co-producer and arranger on the album.

Jeremy can play anything well, from standards to straight-ahead classic jazz to the more contemporary and avant-garde. He has played with Jimmy Heath ,Wayne Shorter ,Soulive ,Bobby Short ,Lewis Nash ,Bobby "Blue" Bland , the Village Vanguard Orchestra ,Ravi Coltrane ,Cassandra Wilson , and bands honoring Cannonball Adderley and Duke Ellington . He has toured the U.S., Europe, France, Spain, Japan, and Brazil with his trumpet. He topped the 2003 DownBeat Magazine Annual Critics Poll awards for Rising Star on Trumpet , and the Jazz Journalist Association selected him as one of the Best Emerging Stars in Jazz .

After the first listen, this album will definitely touch your heart and with continued listening, it will be close to your heart . Years from now, we will look back on this album as just one of the many bright moments in the formidable career of this brilliant trumpeter.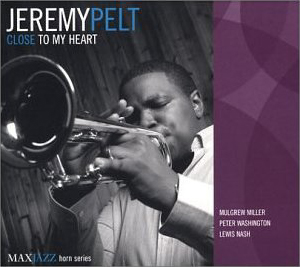 Review of "Close to My Heart"
Detroit Free Press
September 2003
By: Mark Stryker

The 26-year-old Jeremy Pelt has been turning heads for several years with his fiery conception, lickity-split technique and a budding reconciliation of power and imagination.... he makes tremendous strides on "Close to My Heart," a savvy collection of un-hackneyed standards that nestles Pelt's trumpet and flugelhorn suavely among a string quartet and rhythm section.

Pelt, his tone ripe without preening, caresses the melodies with a lovely restraint that recalls the understatement Clifford Brown brought to his recordings with strings. Pelt's solos on, say, Mingus' "Weird Nightmare" (with strings) and "This Is the Moment" (a gently swinging duet with guitarist David O'Rourke), unfold like the sweet first stirrings of romance. O'Rourke provided the expressive but not effusive string arrangements.


Review of "Close to My Heart"
allmusicguide.com
September 2003
By: Jonathan Widran

At 27, this amazingly versatile trad jazz trumpeter has a resumé that leads to huge expectations. His ensemble work has encompassed Ravi Coltrane, Roy Hargrove, Ralph Peterson, Cassandra Wilson, Greg Osby, and the Mingus Big Band . Pelt topped the 2003 Down Beat magazine annual critics poll for Rising Star on Trumpet, and the Jazz Journalist Association selected him as one of the Best Emerging Stars in Jazz. On his debut for the Maxjazz Horn Series , he brings along luminaries Mulgrew Miller, Peter Washington, and Lewis Nash, but it's clear he could be jamming with a bunch of no-names and be equally as emotional and engaging. The joy here comes from the unexpected fluctuations in tone and vibe from track to track. Charles Mingus' "Weird Nightmare" is given a lyrical, reflective twist, backed by a film score-lush orchestra. Just as one is settling into dreamscape mode, Pelt goes bop, swinging cool and funky over his understated trio on "Excerent" and going even wilder on the quick-grooving "Take Me in Your Arms." On "502 Blues (Drinkin' & Drivin')," he chills with his romantic-minded flügelhorn. Pelt seems just as comfy in either mode, but the upbeat gems are the ones that show him at his most inventive. Pelt continues to live up to the promise of all those accolades.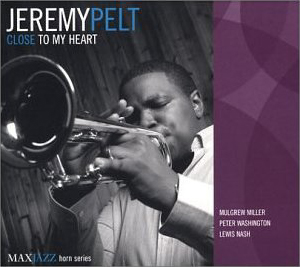 Review of "Close to My Heart"
soundsoftimelessjazz.com
September 2003

DownBeat magazine's choice for Rising Star On Trumpet went to Jeremy Pelt in 2003 as well as the Jazz Journalist Association's award for one of the Best Emerging Stars In Jazz. Their rationale is definitely on target because on his debut for the new MaxJazz Horn Series titled CLOSE TO MY HEART, Pelt brings his trumpet and flugelhorn sensitivity to the forefront in a brilliant way. Playing such standards and ballads as "Weird Nightmare" written by Charles Mingus, "Exercent" by Pepper Adams, and a sensational solo effort on "Don't You Know I Care" by Duke Ellington, the accomplished musician, composer, arranger, and producer realizes his goals with flair and style. Accompanied by such artists as Mulgrew Miller on piano, Lewis Nash on drums, Peter Washington on bass and a classic string section of violins, viola and cello, Jeremy Pelt expresses his love of emotional ballads and the jazz aesthetic with all the right voicings, registers and intonations. As an alumni of Berklee College of Music in Boston, Pelt is poised to rise among the ranks of young trumpeters that include such notables as Wynton Marsalis, Roy Hargrove, Terence Blanchard and Nicholas Payton. This is a sensational ballad album that will entice young lovers and veterans alike into Pelt's heartfelt emanations. For the romantic heart, your best bets are "Don't You Know I Care" and "It's A Beautiful Evening." You'd be wise to buy CLOSE TO MY HEART today.


Review of "Close to My Heart"
allaboutjazz.com
September 2003
By: Norman Weinstein

There's been a noble tradition of young jazz trumpeters recording with strings, think of Clifford Brown and Chet Baker, and 27 year old Jeremy Pelt puts his very individual spin on this tradition with the release of Close to My Heart, his third album.

He shares some affinities with Clifford Brown: a bright crisp tone, a showstopping virtuosity in improvising, and a soft spot in his heart for romantic standards. But Pelt balances his sentimentality with a rigorous sense of tightly structured solos and a penchant for choosing adventurously unlikely tunes to practice his romantic sensibility. For example, this disc opens amazingly with a cover of Mingus's "Weird Nightmare," not exactly the expected placid fare for a trumpet-with-strings project. The small string section, essentially a classical string quartet augmented with guitar, is gorgeously arranged by David O'Rourke not to sweeten the Mingus tune but to actually make it sound more nightmarishly beautiful.

The strings create a spacious and complex tapestry which meshes effectively with Pelt's meaty solos. Pelt is a thinking player who digs into Ellington's "Don't You Know I Care" and Frank Loesser's "In Your Eyes" and consistently manages to come up with fresh ideas. He also intelligently plays off openings offered by pianist Mulgrew Miller, bassist Peter washington, and particularly drummer Lewish Nash. Nash puts an extra bit of push into slow numbers that contributes to a sense of edgy romantic odyssey rather than romantic sightseeing.

Close to My Heart solidifies Pelt's reputation as a major contemporary trumpeter with a imaginatively questing spirit and chops to match.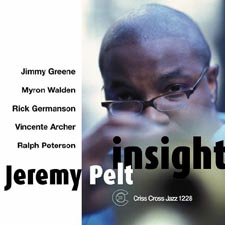 Review of "Insight"
Jazzreview.com
May 2003
By: Greg Turner

On trumpeter Jeremy Pelt's second CD as a leader he has returned to the studio with tenor saxophonist Jimmy Greene and drummer Ralph Peterson from his first CD, plus alto saxophonist Myron Walden, pianist Rick Germanson, and bassist Vincente Archer to create INSIGHT, his debut on the Criss Cross label. They perform 7 Pelt originals, the lovely ballad "I Wish You Love" a 60s hit for vocalist Gloria Lynne, and Herbie Hancock's aptly titled "Madness", a faster, looser version than the original on Miles Davis' NEFERTITI. Speaking of Davis, in his autobiography he stated that trumpeters love to play with great drummers. Pelt obviously loves to play with Peterson, whose incessant swing, surprisingly placed accents, and take-no-prisoners energy have lifted up many a bandstand and recording session. The sound of the 3 horn front line, Pelt's writing, and Peterson's drumming gives this CD the feel of a modern day Jazz Messengers recording. Favorites include "the Ides of March", an uptempo burner with a hip turnaround, the majestic "In My Grandfather's Words" a hard swinging Monk tribute "Spherical Inclination" and "Sisyphus" another burner featuring some heated trading between Walden and Greene.

The sophomore jinx is not evident here, as INSIGHT is an impressive recording by one of today's best young jazz musicians. I hear that his next recording will be on an American label. Obviously this is not the early 1980s when record deals were available on major labels to talented young jazz players, but let's hope he continues to make quality recordings regardless of who he records for.
Review of "Profile"
Jazzreview.com
May 2003
By: Chris Hovan

Just five short years ago, trumpeter Jeremy Pelt arrived in New York after time spent at the Berklee College of Music and his standing has been on the rise ever since. Fresh from gigs with Ralph Peterson and Sharp Nine Record's The Class of 2001, Pelt makes his debut as a leader with Profile (FSNT 127) in the company of peers such as Jimmy Greene, Gerald Cannon, and his mentor Peterson. Aside from the one standard, You Won't Forget Me, all the tunes are by Pelt and they mine the progressive bent established by Miles Davis circa 1966 (i.e. think Miles Smiles). There's a crackling excitement to the trumpeter's approach that lifts everything above the ordinary, with Peterson also responsible for a lot of the fireworks. As a soloist, Pelt combines the melancholy cry of a Davis with the more extroverted abandon of Woody Shaw or Freddie Hubbard. These are merely provided as a source of reference however, because even at this early stage of the game, Pelt promises to be a musician that we'll be closely watching for many more years to come.
Review of "Insight"
Jazzwise magazine
April 2003
By: Tony Hall

Without question, the most exciting new trumpeter to make several memorable appearances at Ronnie Scott's over the past year or so has been Jeremy Pelt.... these musicians are making the most exciting music to be heard anywhere today...and his ballad feature (I Wish You Love) is heart-breakingly beautiful. These guys are the tradition-based future. Thoroughly recommended.
Excerpt Review from "Cadence"
February 2003
By: Steven Loewy

Pelt...maintains a consistent forward momentum.. while he transmits a modern-day sense of urgency with his songs.
Excerpt Review from Ralph Peterson's "Subliminal Seduction"
allaboutjazz.com
October 2002
By: Chris Hovan

Pelt, who in the past has strongly recalled [Miles] Davis in style, plays with more of a Hubbard bravado, speaking with an elastic sense of time that belies his youth.
Review of Jeremy Pelt's NEW Quartet at the Kavehaz from allaboutjazz.com
October 2002
By: David R. Adler

Trumpeter Jeremy Pelt's new band premiered at Kavehaz, and with its vibes/guitar harmonic core it struck quite a contrast with the piano-based sextet that Pelt led at the Jazz Standard a couple months back. The remarkable altoist Myron Walden was the only member common to both groups; his bass clarinet, heard against Warren Wolf's vibes, brought the Hutcherson-Dolphy precedent strongly to mind. Bassist Derek Nievergelt, of Blanchard band fame, had a superior hookup with the amazingly burning drummer Tommy Crane, a recent New York arrival from St. Louis whose nerdy look has earned him the nickname Harry Potter. Guitarist Mike Moreno, who appears on the opening track of Pelt's debut album Profile (Fresh Sound/New Talent), is a member in full standing of this group, and his Rosenwinkel-like fluidity is certainly an asset. Pelt was on fire this particular evening; Crane's drumming propelled him toward the outer reaches. Having worked extensively with Ralph Peterson, Jr., Pelt is no stranger to powerful, highly interactive drumming, and he takes to it like a fish to water.
Review of "Profile" from allmusicguide.com
October 2002
By: David R. Adler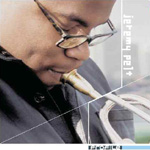 In addition to his formidable trumpet chops, Pelt displays a mature and engaging compositional voice. On "Pieces of a Dream" and the bright bossa "We Share a Moon," he builds forms around unexpected rhythmic contours, pushing himself and the band well beyond the safe zone. He also gets tremendous results by leaving the groove loose, as on the opening "Aesop's Fables" and the longest piece, "Jigsaw." The latter comes to a rolling boil when Glasper, one of jazz's most promising young pianists, lays out and yields the floor to Greene's hell-raising tenor. But Pelt has a cooler, melodic side as well; he brings it out on "A Song for You" and the closing quartet ballad, "You Won't Forget Me." Cannon and Peterson, the session's veterans, provide a robust rhythmic engine without overshadowing Pelt's precocious musicianship.
Review of "Profile" from allaboutjazz.com
September 2002
By: Jim Santella

His original compositions flow from jazz's straight-ahead tradition. His quintet is keeping the flame alive through solid teamwork and gentle exploration. Their blend treats each instrumental voice equally, but highlights the drummer just a little more than the others. And why not? Ralph Peterson does a superb job of knitting them into one well-composed unit. Trumpeter Jeremy Pelt hails from Los Angeles. After graduating from Boston's Berklee College of Music in 1988, he moved to New York and has paid his dues with several mainstream organizations. Now, his recording debut offers a larger audience the opportunity to hear this rising star. With his clarion tone and persuasive technique, Pelt rides a creative wave of straight-ahead dreams. Ballads and up-tempo romps take on his personal attitude. Passion and energy build his performance. Undoubtedly, Miles and Freddie and Chet and Booker and Lee came from the same roots as young Jeremy Pelt. It's all from the heart. On top of that, he's surrounded himself with a winning team. This year's top ten list wouldn't be comPelte without Profile. Tune in as soon as you can.
Review of "Profile" from Sounds of Timeless Jazz
soundsoftimelessjazz.com/
August 2002

After hearing Jeremy Pelt's moving performance on "Strange Fruit," a song on Rene Marie's award-winning CD titled VERTIGO, we knew that here was a musician who had a sense of the human condition experienced in the segregated South and had very ably transcribed it into a historical and stylistic musical perspective. His wailing trumpet depicted an individual that seemed to have personally lived that fateful epitaph. It was extremely moving.

Hearing him play "live" with the Mingus Big Band earlier this year was even more rewarding. Now, on PROFILES, his debut for Fresh Sounds New Talent Records, Jeremy Pelt, steps from the shadows as a sideman and offers his leadership skills on eight great compositions. Accompanied by the awesome tenor saxophonist Jimmy Greene, Jaleel Shaw on alto sax, Mike Moreno on guitar, Robert Glasper on piano, the brilliant Gerald Cannon on acoustic bass, and Ralph Peterson on drums.

Pelt's musical influences all come together to substantiate his individual voice in a major way. Pelt's trumpeting technique is imaginative and warm without being overly sugary. On PROFILES, the listener can get into his excellent improvisation of chord changes without being overly bored. All of the songs on the CD were written by Pelt except for "You Won't Forget Me," – an obvious indication of how listeners will feel after listening to his sterling debut. Order your copy of PROFILES at freshsoundrecords.com
Review of "Profile" from Jazzwise (UK) jazzwise.com
August 2002
By: Tony Hall
* * * * RECOMMENDED



This outstanding young 25-year-old trumpeter has appeared with two groups at Ronnie Scott's in recent months - the Louis Hayes Cannnonball Tribute Band and the exceptional Ralph Peterson Quintet. He's on Peterson's magnificent "Art of War" Criss Cross album (a must-buy!) and continues his partnership with the rebellious drummer on this, his debut album as a leader, with David Weiss producing. Pelt, Peterson, the equally adventurous tenorman, Jimmy Greene, Roy Hargrove bassist Gerald Cannon (a member of this year's Elvin Jones Jazz Machine) and a very serious-minded, twentysomething pianist named Robert Glasper (who has a strong sense of dynamics and who doesn't sound like Hancock or Tyner) are on the majority of tracks here (all Pelt originals, save "You Won't Forget Me", a heartbreaking trumpet ballad feature inspired by the Shirley Horn/ Miles Davis version). There's also a young guitarist colleague of Glasper's called Mike Moreno on track one and, of particular interest, on another poignant-ballad called "Pieces of a Dream", an alto player named Jaleel Shaw. Though I'm sure he's as "clean" as they come, he has that anguished "junkie" sound of some of the greats from the '50s and '60s. Shades of Eric Dolphy? He could develop into someone really special.

Pelt already is. As a player and a composer. In the flesh, you feel you're in the presence of a feisty young Freddie Hubbard. He also cites Chet Baker and Don Cherry amongst his other influences. His compositions here are exceptionally arresting. They're an extension of the kind Wayne Shorter came up with for Miles, but you can also feel lessons learned from Ornette and Cherry. Peterson makes his presence felt throughout the album. The impact of his playing inspires the whole band.

At the risk of being boring, please check this album out. These particular young musicians are making such exciting, stimulating and, most importantly, progressive music. It respects the past and it could represent the future. This and "The Art of War" are arguably the best two new records I've heard in the past two years and both will more than stand the test of time.
Review of "Profile" from Jazz Review (UK)
July 2002
By: Tim Dorset

Pelt's got a big and hearty sound, and he presents it with a rounded assurance and technical control, which means power and polish, a winning combination for many trumpet connoisseurs
Review of "Dreamin' of Cannonball" from Jazz Review (UK)
July 2002
By: Barry Witherden

The excellent Pelt's darting, stinging trumpet frequently nails that distinctive mix of mellowness and sharpness in Nat Adderley's sound..
Review of "Profile" from jazzreview.com
May 2002
By: Greg Turner

This is the first recording as a leader for trumpeter Jeremy Pelt, a member of the Mingus Big Band and groups led by drummers Louis Hayes and Ralph Peterson. On Profile he is joined by Peterson, tenor saxophonist Jimmy Greene, pianist Robert Glasper, and bassist Gerald Cannon, plus alto saxophonist Jaleel Shaw and guitarist Mike Moreno on one selection each, to perform 7 Pelt compositions and "You Won't Forget Me", a lovely ballad inspired by vocalist Shirley Horn's version which featured Miles Davis.

Having seen Pelt perform with the Mingus Big Band and Hayes' Cannonball Adderley Legacy Band, there was no doubt in my mind concerning Pelt's ability as a player, but Profile also showcases his composing skills. Claiming Wayne Shorter as an influence, Pelt's compositions cover a variety of moods and are always fueled by Peterson's dynamic drumming. My favorites include "Aesop's Fables" and "Mystique" which are medium tempo waltzes, "The Trivium" and "Pieces Of A Dream" which are up tempo and swing hard, and "Jigsaw", which reminds me of a new millennium "Freedom Jazz Dance" that dances on the cutting edge. Pelt displays a Miles-like lyricism and Hubbard-like aggressiveness throughout the recording. Greene, his front line partner in Peterson's quintet, complements Pelt with much passion while Glasper and Cannon are solid in their support.

This is a fine debut recording from a young man who is already an in-demand talent on today's jazz scene, and another fine recording from the Fresh Sound New Talent label. Whether or not Pelt becomes one of the great trumpeters in the history of jazz remains to be seen. I'm just waiting for his next CD.
Excerpt Review from The Guardian newspaper in London
March, 2002
by John Fordham
"Pelt, has much of the earthy, unkempt quality of the earliest jazz trumpeters..."
Excerpt Review from Down Beat
March, 2002
By: Zan Stewart
"There's a mountain of potential to be found in trumpeter Jeremy Pelt..."
Excerpt Review from the Village Voice
Feb. 12. 2002
By: Macnie
"The hot new trumpeter has musical personality that fits his instrument: intrepid, convincing, resolute. The modern hard bop that crackles throughout his new debut disc has the kind of vehemence and clarity that make people turn their heads."

Excerpt from, On The Loose - Sharp Nine Class of 2001 Review
allaboutjazz.com January, 2002
By: Chris Hovan
"As for the front line, trumpeter Jeremy Pelt is already making a name for himself with a tart and expressive approach that mixes vocal qualities from the New Orleans tradition with a modern bent."
more -> a class>
Excerpt from On The Loose - Sharp Nine Class of 2001 Review
BBC Music Magazine, January 2002
By: Richard Cook
"Pelt, in particular, is an exceptionally forthright and able trumpeter, whose absorption of Booker Little's music has resulted in a beautifully sonorous delivery: he can play quietly with fine authority, too."

Excerpt from, René Marie's "Vertigo" Review
jazzusa.com, December, 2001
By: John Barrett
An a cappella, innocent "Dixie" gives way to "Strange Fruit", fraught with all the pain it deserves. (Listen to Jeremy Pelt, whose trumpet screams with passion.)

Excerpt from, Ralph Peterson's "The Art of War" Review
allaboutjazz.com December, 2001 "
By: Chris Hovan
"Freight Train" just might be the most archetypical performance of the lot, straddling between a heavy backbeat and straight ahead swing. Jeremy Pelt, who is taking the current jazz scene by storm, gets into some incendiary moments as he repeats one note over and over, building up momentum and then resolving with a sly quote from Miles Davis' "Jean Pierre." The trumpeter's own "Inner Sanctum" and "Apocalypse" show that he's been listening to Davis classics circa 1966, but while these inspirations show themselves in his writing, his playing is a more personal amalgam.
Excerpt from, Jazz at Lincoln Center. "Night of the Cookers"
New York Times, November 17, 2001
By: Ben Ratliff
"Jeremy Pelt, who has had the most professional experience of the four... grasped the rhetoric of performance, the realm beyond instrumental technique... He pulled out the pathos in the song, making a more personalized art than had been heard up to that point."
Excerpt from, René Marie's, "Vertigo" Review
allaboutjazz.com, October 2001
By: C. Michael Bailey
" Strange Fruit" is taken as a slow New Orleans March, a "St. Vincent's Infirmary" as a drum march. Jeremy Pelt's trumpet echoes Satchmo and King Oliver, screaming with Marie as she sings of the "smell of burning flesh." Beautifully done and worth the purchase price of the whole disc if for nothing else. This disc is a worthy follow-up to her debut and proves Ms. Marie one of the great high-wire acts in jazz today. "
Excerpt from, Lonnie Plaxico's "Mélange"
Herald Sun of Durham-Chapel Hill NC, Aug 17, 2001
By: Cliff Bellamy
" The 11 pieces are all Plaxico originals, spanning funk-fusion to gospel to ballads. The two ballads -- "Darkness" and "Beloved" -- are pieces of great beauty, and some of the recording's strongest moments. "Darkness" is made all the more effective by trumpeter Jeremy Pelt's use of the mute, and on "Beloved" Plaxico performs his only solo, using the bow skillfully in the instrument's cello range. "
Excerpt from, America's Democracy has a Music to it...
Jewish World Review July 6, 2001 /15 Tamuz, 5761
By: Stanley Crouch
"Just last week at the Village Vanguard, drummer Lewis Nash led a band that included perhaps the next great young trumpeter. His name is Jeremy Pelt. He is 25 and possessed of a fat golden tone, plenty of soul, sophistication and swing. With every note, Pelt held high the banner of independence that declared American freedom within the collective. He is an example in which we see the U.S.A. once again reaffirming itself."

Excerpt from, Lonnie Plaxico's Mélange Review
allaboutjazz.com September 2001
By: Chris Hovan
"Three supporting talents also make appearances worthy of notice. Trumpeter Jeremy Pelt seems to be a rising star in the mold of Nicholas Payton, with a bold and vibrant sound."

Excerpt from On The Loose - Sharp Nine Class of 2001 Review
allaboutjazz.com August 2001
By: David A. Orthmann
"Trumpeter Jeremy Pelt (remember the name) has a full, clean toneand an attitude to match his prodigious technique. He's cocky, assertive to the point of nearly commanding the rhythm section, and just when you think a pause is imminent, the fireworks continue."